Cureline Baltic, a global provider of preclinical and translational research services in the field of biotechnology and life sciences, is proud to announce its successful participation in a series of business missions and networking events across various international locations. These recent endeavors have further solidified Cureline Baltic's position as a global player in the contract research organization (CRO) industry.
Italy, Milan: Exploring Life Sciences Industry and Ecosystem in Lombardy
As part of a business trip organized by association LithuaniaBIO, Invest Lithuania, and the Ministry of Economy and Innovation, Cureline Baltic's team together with representatives from the Lithuanian life sciences and biotechnology industry visited Italy, Milan. During their visit, the delegates had the valuable opportunity to explore the OpenZone cluster - a campus funded entirely by private capital, dedicated to health, and founded on an approach geared towards open innovation. Cureline Baltic also met with Lombardy business association "Assolombarda" and "Cluster lombardo scienze della vita" representatives, and potential partners in San Raffaele Hospital.

This engagement allowed Cureline Baltic to foster connections and gain deeper insights into the thriving Italian biotech ecosystem.
Switzerland, Basel: BIO-Europe Spring 2023 

Cureline Baltic's Project Development Manager, Dr.  Dominyka Dapkutė represented the company at BIO-Europe Spring 2023 in Basel, Switzerland. This prestigious event brought together key players from the global biopharmaceutical industry. The event proved to be fruitful in terms of forging new partnerships, which hold great promise for future endeavors. It was an excellent opportunity for networking and exploring potential collaborations within the industry.
Poland: CEBioForum 2023
In addition to this event, the Lithuanian Embassy in Poland facilitated various visits, enabling Cureline Baltic to establish valuable relations with scientific and organizations in Warsaw and Lodz. In collaboration with association LithuaniaBIO, Cureline Baltic joined a delegation of Lithuanian companies for a business mission to Poland. The delegation had the privilege of attending the CEBioForum 2023, a prominent life sciences forum, which was inaugurated by Aušrinė Armonaitė, the Minister of the Ministry of Economy and Innovation. This event provided an ideal platform for Cureline Baltic to forge strategic partnerships and exchange knowledge with industry leaders in neighboring Poland.
Israel: Biomed Israel 2023 and Innovation Agency accelerator
A delegation of Lithuanian companies, including Cureline Baltic, actively participated in the Biomed Israel 2023, which focused on life sciences and medical technology. This business mission offered Cureline Baltic a unique opportunity to strengthen ties with Israeli counterparts and explore potential collaborations in cutting-edge research and development.

Cureline Baltic also took part in an accelerator program organized by the Innovation Agency Lithuania during its business mission to Israel. The accelerator program aimed to foster collaboration between Lithuanian and Israeli entrepreneurs, allowing Cureline Baltic to explore joint project submissions for the new Lithuanian-Israeli bilateral program. During their visit to Israel, the delegation from Cureline Baltic had the opportunity to immerse themselves in the qualities of Israel's technology entrepreneurial ecosystem. The team engaged in various activities and presentations, gaining valuable insights into Israel's development in supporting entrepreneurship and fostering a strong economy.

The company expressed its eagerness to collaborate with Israeli companies and pursue joint grant opportunities. By leveraging the strengths and expertise of both nations, Cureline Baltic aims to drive advancements in the field of biotechnology and life sciences while addressing critical healthcare challenges. The joint projects to be submitted under the Lithuanian-Israeli bilateral program hold the potential to accelerate drug research and development and contribute to scientific breakthroughs.
USA, Boston and Chicago: BIO International Convention and North American Lithuanian Business Forum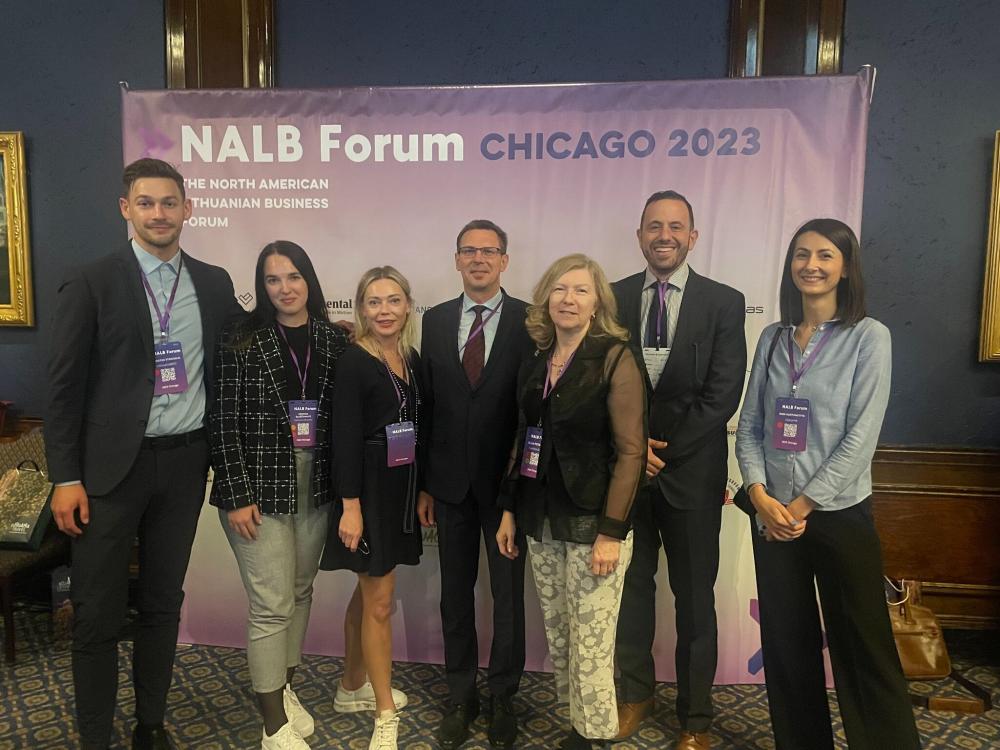 Cureline Baltic participated in two prominent events in the United States. The delegation of Lithuanian companies attended BIO International Convention in Boston, which is the world's largest life science exhibition. Additionally, they engaged in the North American Lithuanian Business (NALB) Forum in Chicago, where industry professionals and entrepreneurs came together to explore opportunities for growth and cooperation and strengthening ties between Lithuania and USA. These events allowed Cureline Baltic to showcase its capabilities to a wider audience and establish connections in the vibrant North American biotech landscape.

Cureline Baltic's active involvement in these business missions and networking events highlights its dedication to expanding global partnerships and staying at the forefront of cutting-edge research and development. As a trusted provider of advanced scientific services, Cureline Baltic remains committed to addressing the evolving needs of the pharmaceutical industry and delivering high-quality outcomes for its growing list of clients worldwide.
Upcoming

event!
We're excited to be a part of this amazing event which is taking place in Vilnius! If you'll also be attending Life Sciences Baltics, we'd love to catch up. Stop by #22 booth and say hi!